At the outset of a new decade, Barna Research Group has relaunched their State of the Church report, using expanded research methods that make the findings more accessible and interactive. "Our team has increasingly felt the urgency to help prepare the Church for its collective future," says David Kinnaman, Barna Group President.
Throughout 2020, Barna is releasing the State of the Church piecemeal in a series of monthly reports. First up is a look into the minds of U.S. pastors: Barna conducted online interviews with 547 Protestant senior pastors who ranked their top concerns for their local congregations and for the Church in America at large.
Pastors' top concerns for local churches? Reaching a younger audience and declining or inconsistent outreach, evangelism, and volunteering (see graphic below).
Biblical illiteracy in local congregations ranked sixth out of the top fourteen concerns of U.S. pastors, with only 7 percent of surveyed pastors ranking it as their highest concern.
"Built on the Bible," Barna's Assemblies of God commissioned study on Bible Engagement (2019), revealed that out of 275 Protestant senior pastors and 396 Assemblies of God pastors surveyed, studying the Bible landed third among seven priorities.
For U.S. pastors in 2020, Bible engagement does register as a concern, even ranking among the highest, but it is not the top concern. Instead, it lands under other expressions of faith inside and outside the church doors.
The irony is that the Built on the Bible research shows that higher Bible engagement actually increases participation in Christian disciplines, from evangelism to volunteering to a life exhibiting the fruit of the Spirit.
For example, take what U.S. pastors rank as their second-most concern: declining or inconsistent outreach or evangelism. Barna's study on Bible engagement shows that practicing Christians who are highly biblically engaged have significantly greater confidence when it comes to sharing their faith than those with moderate to low biblical engagement.
For U.S. pastors' third concern in their churches—declining or inconsistent volunteering —more than half (55 percent) of the people surveyed with high Bible engagement volunteered at church in the past seven days, while only 2 percent said they never did. This compares to 21 percent of low Bible-engaged people who volunteered at church in the past week. Almost 30 percent of highly Bible-engaged people volunteered at a nonprofit in the past seven days compared to 13 percent of those with low biblical engagement.
Interestingly, the surveyed pastors gave stronger responses for what ails the Church at large compared to what issues their local congregations face. At the very least, the greater concern over the condition of the national Church may speak to the polarizing issues dominating today's cultural landscape. Barna researchers add that "this full ranking alludes to many of the opportunities, debates, and divisions taking place within the church right now, from leader burnout to church abuse scandals to women's roles in ministry."
Pastors deemed watered-down gospel teachings to be the top concern facing the Church in the United States today. Just down from that is culture's shift to a secular age, followed by poor discipleship models. Biblical integrity in addressing complex social issues ranked fourth.
Bringing the Bible to bear on today's complex social issues is inextricably connected to watered-down gospel teachings. To water down or misrepresent any biblical teaching, much less the central teachings of the gospel, is linked more to a lack of biblical engagement than it is to having a high view of Scripture, Barna's research shows.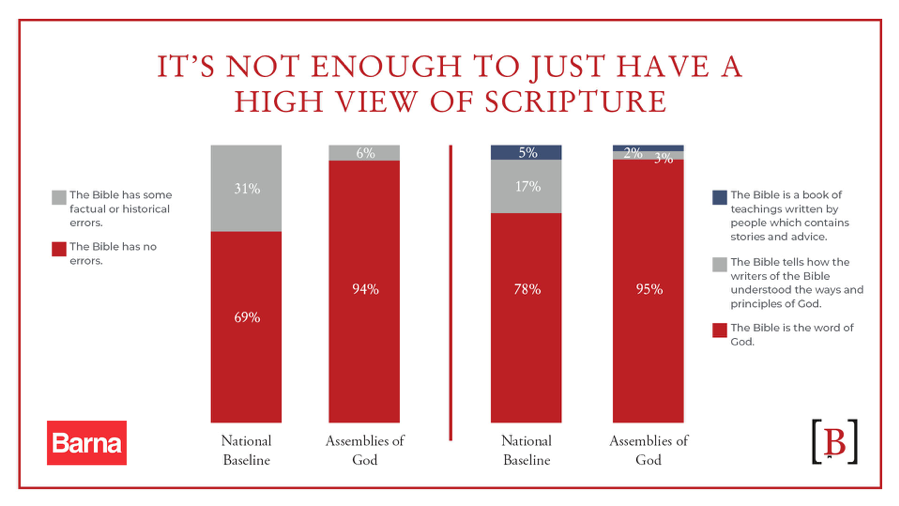 Both the national baseline and the Assemblies of God hold high views of Scripture—but this is not to be confused with high levels of Bible engagement. If they were one and the same, then watered-down gospel teachings may very well have been moved down the list of national concerns.
The research separated a high view from high engagement, resulting in the conclusion that although many people have access to the Bible, few actually engage with it.
If everyone from the pulpit to the pew were to engage with the Bible—that is, to pick it up frequently to the point that it transforms their relationships, shapes their choices, and brings them an emotional connection with God—then the concerns of our country's pastors today would have markedly different rankings. Regular immersion in the Word of God yields virtually exponential differences in people's lives, according to the Center for Bible Engagement (CBE). CBE found that if a person engages in Scripture just four times per week, the positive results are incomparable in areas including evangelism, discipleship, volunteering, and personal peace (see graphic below).
In 2020, fresh research is highlighting what concerns pastors most and many of these issues are connected to a lack of engagement with Scripture. As the decade unfolds, time-tested prayers for revival are beginning to fuse with reinvented discipleship methods that instill community-centered events with a systematic study of Scripture. Small groups that build relationships and biblical fluency simultaneously have the capacity to turn the tide on what might otherwise become a new generation unengaged with the Bible.
For Barna's introduction to the State of the Church research, click here.
For Barna's article "What's on the Minds of America's Pastors?" click here.
For the Center for Bible Engagement's research on "The Power of Four," click here.