The Power of Bible Engagement
By Renée Griffith | Posted In Why It Matters
The majority of the world's population has access to a Bible. The Bible has been translated into 692 languages, potentially available to 5.6 billion of the world's 7.1 billion people. Though the majority can reach for a copy of the Scriptures, the reality is that they don't.
Recent research exposes a lack of engagement with the Bible across many demographics in the United States—revealing a disconnect between the pulpit and the pew. Under commission by the General Council of the Assemblies of God (AG), Barna Group assessed the current state of Bible engagement among practicing Christians across denominations in comparison with AG adherents. The objective? To turn findings into action by catalyzing clear strategies to increase engagement with the Bible. Sparking this study was a curiosity about and concern for the degree of engagement present in America's local churches—a topic which has ranked high among the priorities of AG General Superintendent Doug Clay.
Paramount to Clay since his election in 2017 has been the issue of Bible engagement—an issue he suspected was not confined to the AG alone. "I carry a deep burden regarding biblical literacy in our Fellowship, as well as a burden for our ability at the national office to respond to this need," Clay says. To that end, Barna Group surveyed 1,502 practicing Christians in the US and 275 Protestant senior pastors. Some 396 AG pastors and 982 AG church attendees also participated, with representation from America's heartland, coastal regions, rural and urban centers, and multiple language districts for a cross-section of AG representation.
Rick DuBose, assistant general superintendent of the AG, speaks for AG leadership: "We feel like God is directing us to recalibrate our efforts and ministries to be singularly focused on Bible engagement. The AG is committed to stewarding this conversation within the Church."
"We [the AG] asked Barna, as a third party, to determine if there are significant issues with Bible engagement among AG fellowships and if so, to what extent. It is important for us to know what we are doing well and what we need to work on. The good news is that we have now diagnosed the problem and can begin providing a remedy," says Ryan Horn, director of advancement for the Bible Engagement Project.
Built on the Bible
Barna Group began their research by defining the phrase "Bible engagement." Their classification of a Bible-engaged person is one who interacts with the Bible frequently and whose relationships and choices are transformed by their biblical interaction. The opposite is true of those who are "unengaged" with Scripture: they interact with the Bible infrequently if at all, allowing the Bible minimum impact on their lives.
Barna found that those who are most engaged with Scripture interact with it in three distinct ways: practically, emotionally, and missionally. When Scripture is a driving force in a person's life, that person is influenced mind, body, and soul by the Word of God—"built on the Bible," as the Barna study is aptly named.
Practical engagement comprises daily disciplines of reading and studying the Bible, while emotional engagement is more about feeling and the awareness of God's presence when interacting with Scripture. Missional engagement is when daily disciplines and emotional attachment merge to influence how people live out God's Word.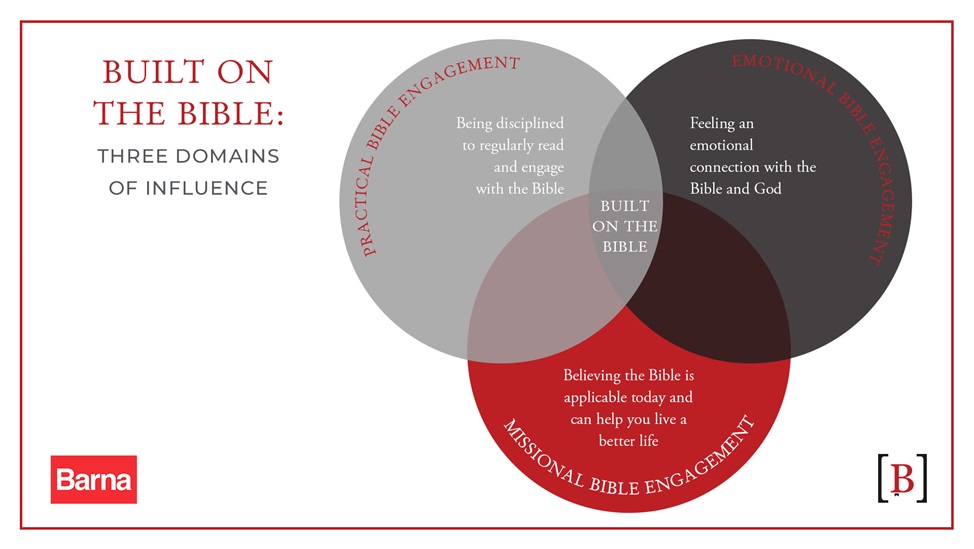 Each of the Built-on-the-Bible study's questions are traceable to one of the practical, emotional, or missional domains. People who scored high in terms of engagement reflected a strong balance in all three areas.
The study revealed that 21 percent of practicing Christians are highly engaged with Scripture compared to just 19 percent of AG adherents. "This study has validated the concern of the AG and lets us know we have some work to do," says Horn.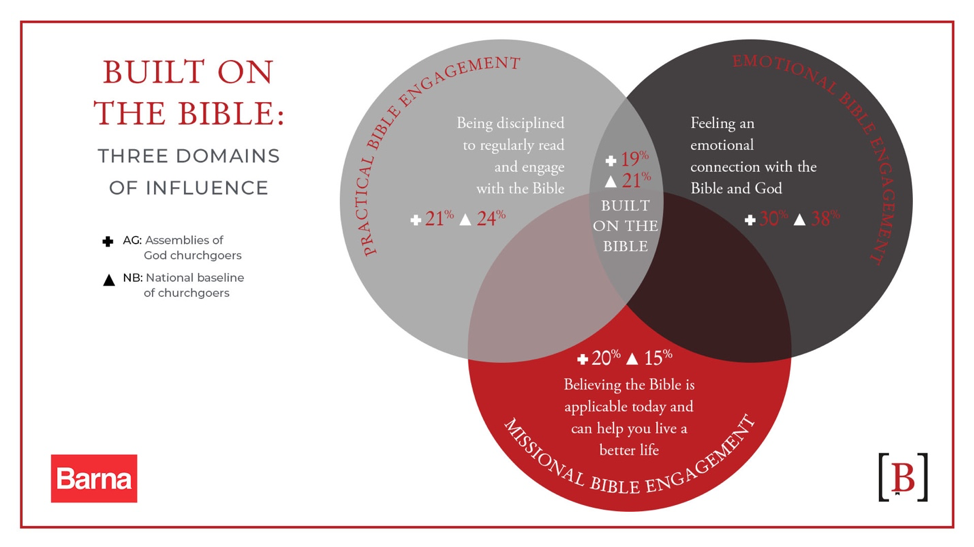 The Takeaways
Barna found that AG adherents have a high view of Scripture—significantly higher than the national baseline of churchgoers. However, that high view does not directly correlate with a high level of Bible engagement. In those surveyed, the belief that both Old and New Testaments are the inerrant Word of God did not increase the likelihood of engaging with the Bible on a regular basis. At the very least, this finding casts light on the disconnect between the value placed on Scripture and the frequency of interacting with it.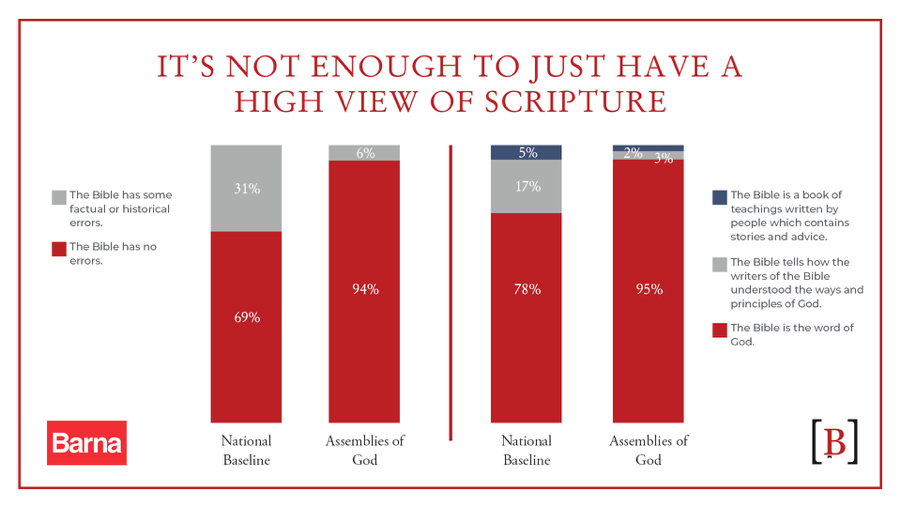 Another positive takeaway is how often AG pastors promote engagement with the Bible at church in comparison to pastors of mainline denominations. On average, mainline pastors reference about 4.5 passages of Scripture per sermon while AG pastors reference nearly 7.3 Scriptures per sermon.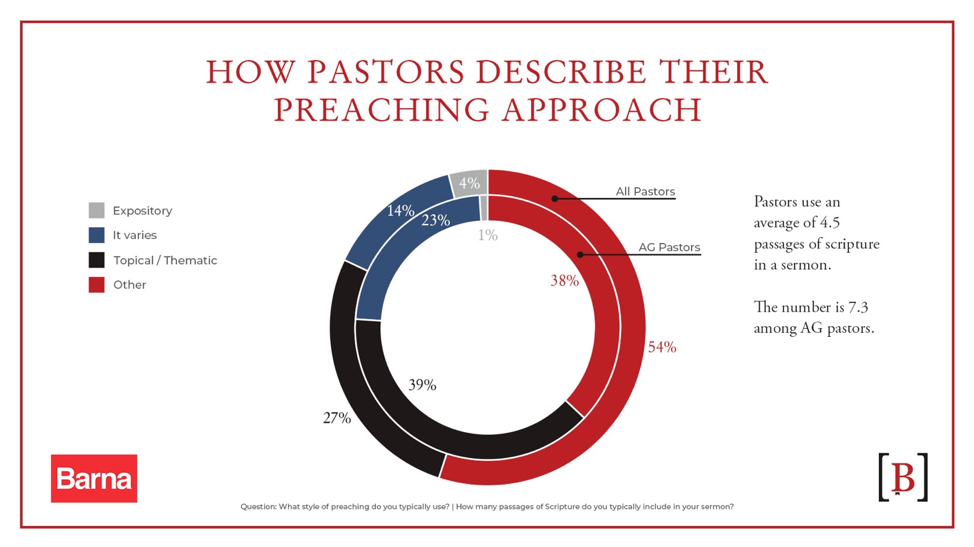 A further look at this statistic shows that while AG pastors do a good job of referencing Scripture during sermons and encouraging the congregation to follow along in their Bible, they are not the leaders in studied, expository preaching. "Research revealed that AG adherents on average rank Bible study as less important than do other practicing Christian groups," Horn notes. "Since we have such a high view of Scripture and understand more than many other groups that the Bible is more than a collection of stories or books—that it's the living Word of God—we must place a greater emphasis on reading and studying our Bibles."
While Bible engagement levels are mixed among the AG Fellowship, the findings are a welcome opportunity for personal and church growth. Research indicated that people with high Bible engagement levels have lives markedly different from those who do not. High engagement levels yield:
Increased fruit of the Spirit
A greater intimacy with the Spirit
A priority on living their faith out publicly
Orthodox views of the gospel
Higher volunteer rates at churches and nonprofits
Deeper devotion to Scripture
Improved life satisfaction
The life-altering power of Bible engagement, whether lived out by many or by few, is undeniable.
Where Do We Go from Here?
The primary challenge for AG churches is not access to Scripture but rather the priority individuals place on interacting with it. "God is calling us back to His Word," says Jon Catron, senior director of the Bible Engagement Project. "We have to create a culture of hunger for God's Word."
The Bible Engagement Project team looks to Scripture for inspiration on creating this culture. The story of the disciples on the road to Emmaus described in Luke 24:13-35 illustrates the experience God wants His people to have when they engage with His Word. As two disciples walked with the living Word of God, their eyes were opened to recognize that it was Jesus who walked with them, and they exclaimed, "Were not our hearts burning within us while He was speaking to us on the road, while He was explaining the Scriptures to us?" (verse 32, NASB). Catron reflects, "Our question became, What can we do to position our church and our people to have that same moment, that same type of journey?"
The Bible Engagement Project (BEP) has begun addressing this issue in two ways: by stewarding the conversation of Bible Engagement through communicating the transformative power of engaging with Scripture and by creating digital Bible study resources for local churches.
For years, the primary model for discipleship within the AG was Sunday School. However, more and more churches have recently moved to a small-group discipleship format. Small groups excel in relational ministry sometimes at the risk of omitting a systematic study of Scripture—a defining feature of traditional Sunday School. The AG seeks to work within both models while ensuring that the Word is at the center of all church-based, community-building events.
BEP has partnered with Faithlife, the creators of Logos Bible Software, to deliver digital Bible study resources to local churches. Specifically for ministers' sermon preparation and personal study, the BEP-curated Logos software package houses AG-related resources including books and articles from a Pentecostal perspective.
In addition, Listen, a forty-session small group curriculum launching in August 2020, retains the community elements of small groups while infusing them with a systematic study of the Bible. All lessons of Listen are written by AG ministry leaders, pastors, and educators in collaboration with the national office. "You don't go to the Bible simply to read; you go to listen," says Horn. "When you open the Bible, you find it's alive and you find that God is there ready to speak to us."
General Superintendent Clay's vision for a more biblically literate constituency is taking shape through the findings from the Barna Group study: conversations across the Fellowship are underway via seminars and cohorts as anticipation builds for what increased Bible engagement will do for the fellowship.
This issue of Bible engagement has resonated with AG district leaders in recent months as national office personnel host seminars and conferences across the country to develop pathways to increase Bible engagement in local churches. "There is already a spirit of collaboration between the various AG ministry networks and the national office," notes Horn, "as districts have begun conversations with their pastors to brainstorm ways to address and avert this crisis."
As the Built on the Bible study concluded, "It is strategic and urgent to focus on Bible engagement as one of the top priorities in making resilient disciples."
***